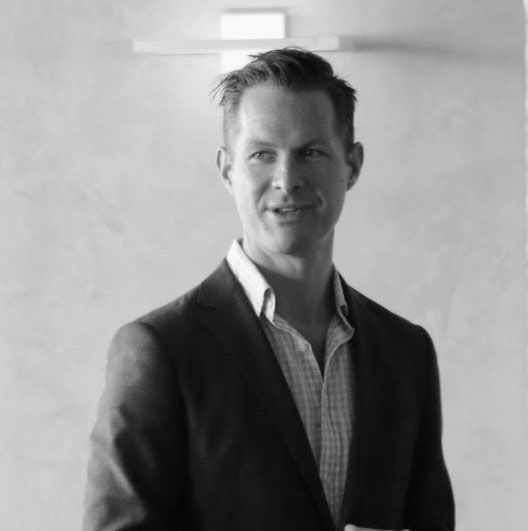 Chief Marketing Officer at Dorpee on Reshaping the Concept of Flexible Work
---
At Marketing Trends, we are discovering what drives Australia's top marketers. Dorpee "the Airbnb of workspaces" is an on-demand workspace sharing platform launched last year in Melbourne. With nearly two decades' experience working at blue chip companies, Alastair shares with us his professional journey, how Dorpee is helping reshape the concept of flexible workspace, and why he chose to work with startups and founders. His full interview here:
---
Career & professional background

Alastair, how did your career in marketing start?

I started my marketing career at Cadbury Schweppes. I always knew that I wanted to be in the marketing space. So throughout my time at university, while studying, I was working as a sales merchandiser, going to supermarkets and milk bars to make sure the brands were well-represented, and executing promotion campaigns.
I had that job for at least three years, and I was very driven to get to a full-time marketing role. Then a role came up as an assistant brand manager, looking after jelly and instant pudding brands.
I quickly realised that things I've learned at university were important. Yet, in Marketing, you learn by doing, specifically in the food and beverage business.
I had a big group of peers, and we all kind of worked our way up through various roles at Cadbury Schweppes. There were plenty of development opportunities at the company at the time.
I was there for more than 10 years, and working for these types of blue chip marketing companies allowed me to deeply understand how brands are built.
If you hadn't pursued a career in marketing,  in which other industry do you think you might be?
As a little kid, I always wanted to be a businessman. I liked the idea of a little briefcase, a suit and tie, and going to work everyday doing business stuff, looking up to my father, who was an executive at a Woolworths.
But growing up, I've always been interested in journalism. I enjoy the verbal and written side of things, and I guess that's why pursuing a career in Marketing worked out well, because there's plenty of Communication involved.
Could you tell us about your role as CMO at Dorpee?
I've gone from working many years in big blue chip, FMCG marketing roles to working with startup founders. First, Grill'd, the healthy-burger food chain. Then 2XU, a performance sportswear brand and more recently at AJ Hackett International, in the global adventure tourism industry.
Working at big corporations can be really good, yet it can also be quite constraining. There's a lot of steps and systems involved in the creative process, and this can kill a bit the magic of marketing.
When I met the founders of Dorpee, I'd already had a few Head of Marketing roles at startups. They needed help to build the business and the brand, and that's how I became its CMO!
Being an early stage startup, my role there is pretty broad. At the start, it was about helping define the brand and what we do. Dorpee is a marketplace that has three sides, working across venues, employers, and employees.
We started by understanding each one of those three audiences, what their problems are, and what solutions can Dorpee provide them. So from a strategy point of view, all the way through to execution, my role oversees everything: how we craft employee presentations and decks, how our team is selling the concept to venues, and creating our social, digital and PR strategy.
It's certainly very different from working at a corporation with multiple agencies. Yet what I love about startups, and Dorpee in particular, is the fast pace and having full control over the areas involved in Marketing.
Marketing & Industry Trends
What type of impact has COVID- 19 had on Dorpee?
Dorpee was founded before COVID-19 happened. Around February last year, we were ready to start on boarding venues to become flexible workspaces, but when the pandemic hit, we were forced to slow down quite a lot. Yet, it's been quite positive, in the sense that COVID-19 has shown that the idea of flexible and remote working isn't just a fad, but a trend that's here to stay.
Everyone can work wherever and be just as productive. Whilst we slowed down in terms of being able to go to market, we've witnessed an amazing transformation related to the concept of flexible work.
Therefore,  because our business is facilitating places for people to deliver their best work, we actually experienced a positive impact.
What is the most exciting trend or innovation happening in your field?
I guess the most exciting trend is related to this transformation. This radical change of the whole "one-size-fits-all approach" to what a workspace needs to look like.
Now, employers and employees are thinking "What does the new way of working look like?" And it's not a philosophical question for five years down the track, it's a pragmatic question that is being answered today.
At Dorpee, we are helping employers find that new model. It might be a combination of having the staff at the office two days a week, one day working from home, and then two days a week at flexible venues, where they can still have their collaboration and inspiration sessions.
As a marketer, what do you believe is the biggest challenge facing your industry in the future?
The biggest challenge I see is that there's not a true understanding of what Marketing is. There's a lot of "experts" who have never really been educated. And I think it's quite dangerous that so many people in the industry don't have the knowledge and the theory behind what actually works and why.
I think Marketing, as an industry, might be at risk if it doesn't start investing more in education and up-skilling its professionals. It's at risk of being considered "superficial", when compared to other disciplines that 100% require an academic background, like accountancy, for example.
There's also a bit too much focus set on just one channel at the moment. Obviously, Digital is one of the easiest channels, but there's a whole lot more that should be done and just because you can see it, doesn't mean you should do it. It all comes down to understanding and respecting the role of Marketing as a whole, and taking inspiration from people that know what they are talking about.
Another challenge that I see, is probably because of my personal experience. I was quite fortunate to start my career in a big company where training and development pathways did exist.
I look at a lot of people coming into marketing now, and I think their challenge is that they are going into roles that are so specific and niche - say a Social Media Manager role - that they might get capped at that position. So I consider it important to make sure there's still enough development in marketing talent to make sure they can have a long and varied career.
Tools, recommendations & sources of inspiration
What does a typical day look like for you?
Every morning I make sure I rank the day's tasks and what needs to be done that week. We use platforms such as Slack to make sure there's clear communication in terms of priorities for each day.
Given that we are in a startup stage, my days are pretty frenetic. I'm constantly jumping from one thing to another. But I make sure that there is still off-screen time at the start of the day and the end of the day to organise my priorities.
I start every day at 5:30 am, going for a walk with my wife. I'm a big believer in disconnecting, going for a walk, and clearing my mind. This allows me to reflect on what has happened and what needs to happen.
What type of brands do you take inspiration from?
Zwift, the online cycling and running community, has done a great job. They use technology to create an online community for people who are all exercising around the world in real time. From a brand connection point of view, I find it fantastic. I also love their UX. I can be in my garage cycling in the middle of the night and I'm chatting away with someone who's riding in Japan, in the US or anywhere else in the world.
Strava is another platform that has done an amazing job in terms of building and encouraging a community of people who are doing good things.
Whilst a lot of the content on Social Media can be negative, both of these platforms do a great job in allowing  people to celebrate achievements and give each other positive kudos.
Another brand I find inspiring is Formula One, especially in how they were able to emerge and build themselves as a media platform. It's not just about car racing anymore. With media initiatives, such as their Netflix series, they've managed to become a great content led business appealing to lots of people .
The final brand I take inspiration from would be Apple. They continue to innovate, but always staying true to their original vision. I'm loyal to Apple because it's easy. They make it work. And they do so not just by being product-led, but by focusing on great communication campaigns to sell the benefits of these great products.
What are three resources you would recommend for anyone working in your field?
I would divide my recommendations in three big categories:
Education:
How Brands Grow, by Professor Byron Sharp. I constantly keep coming back to this book because it's a good reminder of the theory and the science behind marketing. It's a really good starting point.
I also love guys like Mark Ritson, who always has great videos and articles that cut through the BS in a humorous and informative way.
Finger on the pulse:
Platforms such as Twitter and LinkedIn are my go-to resources to stay up to date with new research, campaigns or general thought leadership articles.
Creativity:
I believe the biggest resource that everyone has is a pen and paper. Getting off-screen, doodling some ideas and drawing things. When I'm working on complex concepts that don't fit into a PowerPoint Deck, I find a pen and a piece of paper it's all I need.