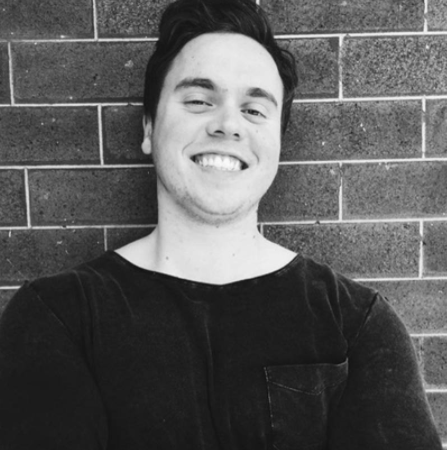 Head of Growth & Marketing at Wellshare Group on the New Competitive Advantage in Healthcare.
---
At Marketing Trends we are discovering what drives Australia's top marketers. Wellshare, a co-working space in the heart of the Sydney CBD, offers clinic rooms and workspaces for thought-leading healthcare practitioners. Dan Siepen tells us about his role as Head of Growth & Marketing, the new trends and challenges in the healthcare industry and his passion for creating marketing content.
---
Career & professional background

Dan, how did your career in marketing start?

My road into a career in marketing is most likely a bit different to most marketers that first started.  My first serious job was my first startup, in which I was part of the founding team. I was straight into the thick of things of running a startup at only 21 years old.
I finished university in 2015 and in my penultimate year I did an internship at a social media company.
I really enjoyed the internship and whilst also majoring & studying marketing at university at the same time, I quickly realised the discrepancy between what's required to get a job in marketing and what was being taught in the curriculum.
I'm a big fan of theory & fundamentals in marketing, but with the ROI of paying (and time dedicated to studying) for university and becoming job-ready, I was simply going to be behind if I didn't take action. I knew I was lacking critical skills in digital marketing if I wanted to work for an exciting startup.
This was a good first test for me personally if I wanted to become a great marketer. I had to be creative in coming up with a solution to a problem I was facing. So, I ended up creating my own role. I realised this was the quickest possible route to levelling up my career faster.
I applied and managed to get further experience working for a new startup, which then later turned out to be a 4.5-year journey going from a few thousand in revenue to millions of revenue in just a handful of years. Over that period of time, I quickly learned everything to do with growing a successful business and incorporating growth marketing.
Being a fundamental part of a growing business, as well as building side projects & founding a big group of growth hackers by running events (ended up being #1 meetup for growth hackers in Australia), I learnt lots of different channels: Google Ads, Facebook Ads, Email Marketing, Strategy, Events, Partnerships. You name it. :)

What are you working on now?

I currently head up Growth & Marketing for an exciting startup called Wellshare, as well as consulting & advisory work for startups and eCommerce companies.
I also have written & continue to add new growth marketing content on my personal site (such as these marketing checklists), as well as building and writing a lot of content for my exciting new growth marketing blog.
I love writing & creating new content to help founders, marketers and those wanting to learn growth marketing, to become better at what they do.
If you hadn't pursued a career in marketing,  in which other industry do you think you might be?

That's a very interesting question that not long ago I was asked by a friend.  I answered their question by saying I've always loved marine biology & sustainable house design.
I'm a big fan of marine life and saltwater fish & mammals (think Nemo, Dory, etc). I also love the ocean and sustainability.  To sum up the perfect role, it would be a title like "Environmental Marine Biologist".

Another exciting job I would have loved to do (or maybe still can in the future ;), is work on sustainable housing projects. The sort of projects you see on Grand Designs. I'd love to build a sustainable house one day I can own.

Could you tell us about your role as Head of Growth & Marketing at Wellshare?

As Head of Growth & Marketing, my #1 goal is to grow the revenue of the business & continue to build a thriving community.  It's about unlocking bottlenecks and navigating our way to achieving scalable & sustainable growth.
We're quite unique in our offering and innovative in the health industry, which possesses both amazing opportunities and challenges.
Similar to being part of the first business I was involved in, this role offers autonomy & trust to work on whatever helps grow the business. It's a great position to be in, but comes with the pressure to perform and ensure revenue growth is going in the right direction.
This is the sort of environment I personally thrive in when something is this early stage. I pride myself on being as resourceful as possible.
Just some examples of current focuses include:
Short-term:
Refining & building our processes & workflows for both internal and external marketing initiatives.
Building & refining the community engagement strategy
Content strategy, paid strategy and refining performance & execution for both
Refining and nailing our full CX journey
Reducing CAC & increasing LTV.
Medium-term:
Building out our tech & data capabilities for both internal and external marketing initiatives.
Strategy for scaling performance & organic channels, as well as execution
Increase community engagement of those in the industry of health to engage with our brand.
Continue to improve the patient & practitioner experience at Wellshare.
Long-term:
Build a more credible, innovative, authentic and exciting brand in health.
Be the #1 choice & destination for practitioners to build and grow their practice.
Unlocking growth involves the process of many individuals and sections within the business, not just marketing. We have a really strong team of people who are great at strategy & execution within their dedicated skillset and are great team players.
This ultimately helps us build a well-oiled machine. It makes everyone's job easier (and more enjoyable), including mine.

Marketing & Industry Trends

What type of impact has COVID-19 had on your industry?

Looking at the health industry as a whole, COVID-19 has had a massive impact in Australia and globally.
I think like most industries in the pandemic, there's been impacts that have been negative, but also many new opportunities that came to light.
For example, telehealth and even text-health/online questionnaire solutions in the market have taken off.
I think anyone reading this is well aware of the amazing new startups and telehealth solutions that have gained attention and experienced good growth.
What's the new competitive advantage in healthcare?  It's all about improving the patient experience through accessibility & convenience. I believe COVID-19 has accelerated this thinking and adoption within the healthcare industry.


What is the most exciting trend or innovation happening in your field in terms of growth?

I think similar to the above answer - more solutions around various health verticals that provide amazing patient experiences through accessibility, affordability and convenience. New health businesses or practices that have a good mix of these factors for improving patient and practitioner experiences will do well.

As a marketer, what do you believe is the biggest challenge facing your industry in the future?

As a marketer, I think the real challenges in our industry come down to more competition on already highly competitive digital channels. Particularly paid & SEO.
Whilst data & targeting still and will always play a pivotal role in strategy, decision-making, optimising plus scaling channels and campaigns, for me, it's now about developing amazing creative and customer experiences that will ultimately get true cut-through.
Achieving this really comes down to understanding the customer/personas & market in even greater detail. It's about really understanding the customer journey of our target market and how they interact with the brand.
Marketers that continue to strive for improving and optimising experiences for their customers/target market, in a creative fashion, will ultimately outperform their competition.


Tools, recommendations & sources of inspiration

What does a typical day look like for you?
I'm an early-riser.
I never used to be, but ever since getting into this morning's routine, it's worked wonders for productivity and getting the most out of my day.
I typically get up at 6am. I check emails and slack for about 5-10 minutes whilst still in bed. I think many of us do this when we wake up haha.
I keep it to 10 minutes max. I decide to check emails as the first thing as it's better than checking anything else (like social media). It gets me up to date quickly on what work is required for the day or catching up on important events/news in the world. In addition, emails are great to check any new newsletters or content from a top marketer I follow. I then make a note in my emails to check it out later in the day.
After getting up, I have a shower and then go for a walk. It's about 6.30am/6.45am at this point and it's really refreshing to go for a walk early. I walk for about 30 minutes or so. On the way home from the walk, I get myself a large latte. There's no point starting work without a coffee- I'm a coffee addict!
Usually, after this morning's routine, I get straight into work at 7.30am. If I'm working from home that day, I put the TV on in the background. Helps create an ambient environment. Every day is a different day (especially as a marketer), but my usual daily schedule is working from 7.30am - 5.30am.
I can say for sure most days consist of around 40% - 50% meetings. I do strive to do my best to get one day a week (mainly Thursdays or Fridays) to be days with no meetings. It's important to aim for a day with no meetings, which works wonders for productivity. It's my "GSD Day": Getting S*** Done Day!
I try to make meetings happen in the morning if possible and then work on actual work from lunchtime into the later afternoon.
I work 3 days in the office and 2 days at home (when lockdowns aren't a thing).

What brands do you take inspiration from?

This is an interesting one. There are lots of brands I take inspiration from across eCommerce, SaaS, B2B & Startups for a variety of reasons.
I follow a lot of top brands such as;
eCommerce - Koala, Hims/Hers, Beardbrand, GymShark.

SaaS - Zapier, Mailchimp, Notion, Webflow, Figma, Shopify.

B2B - Lattice, Gong, Ahrefs, Intercom.

I actually get a lot of learnings as well from businesses that are in the early stages of their growth journey from those on Indiehackers & Product Hunt. There are some really clever people doing cool things.

Software and tools recommendations: what is the one software you can't work without and why?

I mean there are lots of tools I love and use daily. In a close 2nd place I have to say Webflow, but the top tool I can't live without is Notion.
Notion is both my organiser for work & life management. Lots of templates across project management, task tracking, file management and much more. The possibilities are endless with Notion.

What are three resources you would recommend for anyone working in your field?

My blog!!!  In all seriousness, there are lots of amazing resources for growth & marketing I really love. There's a bigger list than 3, but if I had to choose 3 to share with you all and that there's a good chance you haven't heard of before, I'd recommend:
Foundation Inc by Ross Simmonds - He has an amazing newsletter I read religiously every week and an amazing blog on B2B.

Optimize Smart by Himanshu Sharma - This blog is amazing. The best blog IMO on digital marketing analytics.

SEO Notebook by Steve Toth - Keeps me up to date with all the updates across SEO and includes some great resources via the weekly newsletter.

Bonus: As a separate resource I recommend for marketers & those who love innovation, definitely check out the blog and resources by Board of Innovation. Seriously good.