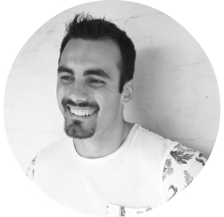 Head of Growth & Digital Marketing at Vamp: on the rising power of Influencer Marketing
---
At Marketing Trends we are discovering what drives Australia's top marketers. As Head of Growth at Vamp and content creator himself, Harrison Cox gives us a unique insight into Influencer Marketing and the changes taking place in the industry. Read his interview to learn more about upcoming trends, challenges and where he gets his inspiration from.
---
Career & professional background
Harrison, how did your career in marketing start?
I studied media, communications and law at University of Sydney and very early on realised that working in the legal profession was not for me.
I did a few internships in social media and videography at different tech businesses whilst I was at uni. Basically, to learn my trade and also practice my video- editing skills.
From there, I landed my first full-time gig as a marketing coordinator. It was at a supplement company in the health and fitness industry called EHPLabs. Working on the ground with a marketing team was an awesome experience and it was also a challenge to juggle full-time study and full-time work. It was pretty intense, but it paid off.
Later, I moved to a digital marketing agency called Rocket Agency. Once again, this allowed me to expand my marketing skills across clients, in every industry and vector, outside the health and fitness industry.
This path brought me to where I am today, having recently joined Vamp as a Head of Growth.
And if you weren't working in marketing,  in which other industry do you think you might be?
I guess the obvious choice would be working as a lawyer, but I don't think that would be the case.
I actually love writing. Growing up I wrote bits and pieces about sports journalism. I'm an avid sports follower, so I reckon that would be a side step of a career should I ever have to pivot.
Tell us about your job at Vamp and what role does digital marketing play for your clients?
At Vamp,  we scale our clients' digital marketing campaigns using a combination of influencer marketing and content amplification. At the same time, influencers use Vamp's platform to produce content for their clients campaigns.
We play heavily in paid social media, TikTok and YouTube because we deal with eye-catching content to draw people into our client's marketing funnels.
Whenever a brand deals with an influencer, it's kind of a direct line to the consumer. If the influencer has an engaged community of followers, they can resonate the client's message in a very effective way.
Is Vamp a small or a big company? How is your team composed?
It's a midsize company, the Australian office has roughly 30 employees. Yet, we also have offices worldwide in Singapore, Dubai, London, Jakarta and Tokyo.
It's growing and we intend to keep growing in that fashion. It's important for our client's support to have localised teams that can manage their campaigns.
Influencer marketing needs a very "on the ground" approach. You need to be talking with influencers, making sure the content is appropriate and that the strategy of a campaign is set up properly, taking into account the context.
Having localised teams helps improve the campaign's flow and the client's experience.
How do you match influencers and brands?
At the moment we have influencers coming to us. Part of my job is increasing the amount of influencers and brands that are reaching out to Vamp. But there is also an outreach process, especially when a client requires a very specific niche campaign, style or posting. We then research prospect influencers in that particular sector.
It's for the most part a manual process, but we are looking into automating it as much as possible.
Marketing & Industry Trends
Being an influencer and content creator yourself, you must have a personal insight on how to use digital marketing to reach audiences. Could you tell us a bit about that?
Yes, absolutely. At Vamp there's the two sides of a coin: one being the influencer and the other one, being the brands. So it was a happy accident to join the company having experience in both sides of that coin.
I'm a content creator who's collaborated with brands in the past, mostly, to create YouTube content around electronic dance, music and festivals. Something I'm passionate about.
It's interesting how much I've learned by actively uploading content to platforms such as YouTube, Instagram and Facebook.
You can speculate on how an algorithm works and you can run a campaign from an outsider's point of view.  Yet, if you are literally the person creating the content and building a campaign yourself, then you'll learn a lot on the fly.
I can later give clients that insight and it allows me to understand the pain points for influencers.
In terms of COVID-19, how did it affect the company and the industry in general? What's your opinion?
The biggest impact for the industry was the sudden focus on costs and spending.
When businesses are in distress, a department that generates costs like marketing is going to come under the microscope. So, at the beginning of the pandemic, everyone reviewed marketing costs and focused on what was generating ROI. But then also, many people fell into the trap that cutting spending ultimately has a negative impact on the business.
So the challenge was finding the sweet spot between what kind of cost- generation activity could a business afford, while still remaining profitable and avoiding the pitfalls of COVID-19.
Another important impact of the pandemic was the spotlight turn on mental health. I believe the businesses that have weathered the storm are those that supported their employees and introduced elements of flexibility to the workplace.
It's fantastic that this actually helped improve the work-life balance. In this sense, a shout out to Vamp's employer experience manager Bianca, who set up fantastic processes. She made sure that everyone's mental health was looked after during some pretty tough times during 2020.
COVID -19 also contributed to the possibility of remote working, beyond WFH.
Before the pandemic, I managed to convince my former boss at my agency job to let me work overseas. I thought it would be a fantastic experience to link up with other young professionals and learn from marketing minds around the world.
I ended up spending two months in South Africa at the beginning of 2020. I was literally working my regular agency job from a Safari lodge, which was awesome.
To me, that's an example of what remote working can evolve into. We've developed a level of trust and productivity that allows us to do our jobs from anywhere, without having to sacrifice quality.
Which trends do you think are increasing in digital marketing?
Shoppable streaming is one to watch. YouTube announced late last year that they're looking to introduce new ad formats to allow product feeds to dynamically show whilst the video is playing. This trend reminds me of "The Truman Show" where product placement was integrated into live broadcasting as a central feature.
Brands and businesses will start using this strategy, as opposed to reaching people by cold calling or through social media feeds with traditional style ads.
The second trend - and I could be a bit biased here- is the increasing power of influencers and influencer marketing. This has been increasing for the last five years. Influencers are getting people on board with more brands and genuinely changing the behaviour of their followers.
I believe we're going to expect a lot more brands to invest in influencers. And there's also more individuals emphasising their personal branding and carving out a niche where they can capitalise.
Which do you think is the biggest challenge for your industry?
The biggest challenge is maintaining a sense of creativity and individuality.
Once again, my bias is coming through here, but creativity is often pushed to the side as a lesser skill. It's not considered as important as the tactical analysis of a campaign and it's viewed as a fun thing that people do every now and then.
But in a saturated market place, where everyone is starting to look at a blueprint of success and imitate it, it's going to be the businesses that have a creative spin and unique approach that succeed.
I would want to see more creative marketing in the future to stem that tide. I consider that to be the biggest challenge for businesses to manage in the future, since it's also difficult to "hire creativity".
Is this creative approach something you are trying to implement with your clients?
Definitely. One example of this is my work with sustainable fashion business Buena Onda. For them, because the fashion industry is highly saturated, we needed a unique proposition to reach customers.  It's a great challenge to see if we can help change the way people consume fashion and introduce more sustainable behaviours into their lives.
Working with clients in the past, some of my favourite campaigns  have been silly,  yet creative ideas.
For example, one of my favourites actually was for PAX, one of the biggest video gaming conventions in Australia and the world.
I pitched them a drawing of Sonic, The Hedgehog on Microsoft Paint. The whole concept of the ad was "this is such a good gaming convention that we don't even need to sell your tickets. Here's a useful tutorial on how to draw Sonic, The Hedgehog"
When it went gangbusters, I was proud to say "yeah, a client invested money on this" - considering I'm a terrible artist.
Tools, recommendations & sources of inspiration

With so many different things you have going on, how do you structure your weeks and organise your days?
I am a massive morning person. I love to get up early and have a swim at the beach. Then I check my to-do list for the day and set up meetings to catch up with my team. I often try to take a break at lunch and get outside or go to the gym.
Then back in the afternoons, I link up with agency partners, to make sure I'm not only listening to myself and my team. It's important to get an outsider's perspectives.
Towards the end of the day I add another to-do list for the next day, tying up some loose ends. I'm not a big fan of burning the midnight oil so I rather focus on the next morning, as opposed to rush and finish something off at the end of the day.
In terms of my week, I plan it like my days. I prefer the start of the week when it comes to big tactical strategic things that I need to do. By Thursday and Fridays, I have meetings with my team and touch base with the clients.
Which are your sources of inspiration for all this creativity that you need to put in place?
Since my days in the health and fitness industry, I've enjoyed following the evolution of Gymshark, from a start-up in the UK to global fitness powerhouse.
It's interesting because their marketing can be perceived as a bit dismissive. Fitness industry marketing might seem simple, but at the end of the day, they've done some very creative and tactical things and set themselves apart. That's probably why they've grown so fast.
Another company very close to my heart is Q- dance. They put on music festivals around the world, including their flagship festival, Defqon.1.
When it comes to their marketing, they've created a community more fanatical than I have ever seen. It's insane. Building up a community for any music festival takes a lot of time and hard work.
Yet, with their consistent social media presence and committed marketing personalization, they make everyone who has ever attended one of their events feel special and part of a bigger family.
That's a huge achievement and very difficult to create as a business.
I also like looking at individuals who collaborate with companies. A big inspiration is a techno DJ, Peggy Gou, she's the coolest person on the planet. It doesn't matter what brand or which person she is collaborating with, I want whatever she's posted about. I think that's due to her having a laid- back, casual, easy connection with her fans.
This leads me to another marketing trend that I'm currently perceiving: influencers "not trying" to create a certain reaction. It's almost as if they are living their normal lives and happen to be using or wearing a certain product. That's the collaboration, with people barely noticing it.
Which software you can't work without?
Aside from a curated playlist that matches my working energy and mood - a must-have for me,  I like using Harvest for time tracking.
It's easy and useful to know where you are spending your time in an inefficient way. It helps you identify which particular task took too long or which meeting didn't need to go for that long. It's a great way to identify roadblocks and smooth your workflow.
Which resources would you recommend?
The first one is a shout out to a friend of mine, Camille Gray and her blog  Add To Cart. She deep dives into marketing insights and trends without you having to. She provides a short form version of what's going on.
I would also recommend Marc Fenell's Podcast Download This Show, which is a very enjoyable series about media, tech and pop culture.
Then to finish, this is not much of a resource, it's more of a valuable lesson for any lover of the internet and definitely anyone in marketing: The New York Times´ Podcast Rabbit Hole.
Tech columnist Kevin Roose looks at the impact of recommendation algorithms on social media and how they influence our behaviour. He dives into the impact of conspiracy theories and how you can fall down a conspiracy theory rabbit hole.
It's very interesting as a marketer, who obviously uses these recommendation algorithms for clients´ purposes, to hear how these algorithms influence our behaviour.