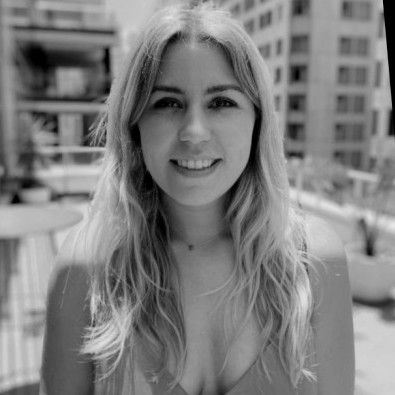 Marketing & Communications Manager at uTenant, The Warehousing Matchmaker, on Adapting to Recent Challenges in the Logistics Industry.
---
At Marketing Trends we are discovering what drives Australia's top marketers. Helen Turnbull is Marketing & Communications Manager at uTenant, an online warehousing matchmaking platform. In this episode, Helen tells us about the exciting upcoming shift from CX to BX, the challenges the Suppy Chain industry has gone through during the last 20 months and how did they adapt their marketing strategy to overcome them.
Read her story here:
---
Career & professional background

Helen, how did your career in marketing start?

I actually knew supply chain before I knew marketing! I worked as a content manager for a learning & events company that specialised in supply chain and retail. It was an incredible eye-opener experience. I learned a lot about supply chain and fell in love with the industry. I started to do a lot of brand and media work to generate interest in the company and realised a passion for marketing was forming.
If you hadn't pursued a career in marketing,  in which other industry do you think you might be?

I have a real interest in health and wellbeing so if I didn't work in marketing, I would love to explore the world of nutrition and overall health. I am a big advocate for a clean and active lifestyle with plenty of outdoor time. I've seen the benefits myself and would love to help others find this too.


Could you tell us about your role as Marketing & Communications Manager at uTenant?


uTenant is an online platform that helps product owners find available overflow storage and warehousing space. We've been referred to as the 'Airbnb of warehousing' because it's a place where tenants can connect with potential third-party providers to source their logistics and warehousing needs. We also have a consulting segment of the business where we provide solutions for businesses looking to optimise their supply chains.
Here, I run all of our marketing activities including social media, content strategy, brochure design, media & PR and copywriting.
It's a greatly diverse role that has allowed me to gain a broad understanding of how marketing works in this industry.


---
Marketing & Industry Trends

What type of impact has COVID- 19 had on your industry?

For the supply chain and logistics industry, obviously there has been a huge impact on the way we operate and the way we have had to deal with unpredictable changes in demand.
I mean, at first we saw empty shelves and inventory shortages because of panic buying. And then we had issues shipping materials from China due to temporary factory closures and political disruption.
Our industry in general has also had to deal with accelerated trends with technology including eCommerce and an increase in online shopping. And we've also seen technology becoming increasingly more essential to lessen disruption when a human workforce has had to be reduced due to lockdowns and other restrictions.  
Marketing to this industry has had to develop alongside these challenges. I have needed to consistently be on top of these developing trends, not only to help provide education and answers through content, but also to understand the shifts in priorities for our market.
These last 20 months have definitely been a huge learning curve. But I am seeing a shift in the way supply chains operate as we move towards a more digital and autonomous way of working, and I'm extremely excited to be here for the ride!

What is the most exciting trend or innovation happening in your field in terms of growth?

Ah, this has to be the shift from customer experience to business experience, which is basically a recognition that a brand's purpose plays a crucial role in their marketing and overall experience.
In a pretty turbulent, global climate and saturated market, brands need to stand for something bigger than what they are selling. And this has provided us with a paradigm shift when it comes to brand values and how these align with their customers.  
Take running shoes as an example. Your customers have 101 options on where to buy this product. The prices are pretty similar, the styles are the same. So, how do you get them to choose yours over others?
Brands now have to communicate more than their product offerings. They have to navigate a very polarised political, social and environmental landscape where a brand's values have to align with their customers. If a customer knows that their running shoes come from a company whose guiding principles make them feel like they are part of something bigger, they are more likely to buy and become a returning customer.
I'm seeing a huge shift in how customers make decisions, and the brands that are clear on who they are and what they stand for are going to win.  

As a marketer, what do you believe is the biggest challenge facing your industry in the future?

One thing I have seen shift pretty dramatically for marketing over the last couple of years is this change in online connection. Due to the pandemic and remote working, we have all fallen face-first into a virtual world. And with everything now being online, including shopping, networkers, events, all of it, as a marketer (especially a digital marketer), we now face the challenge of standing out, staying relevant and engaging communities online.
Whereas at first this was pretty daunting, especially because on top of all of that, we face privacy changes from Facebook and Google, I now see this as one of the most exciting shifts to have happened in my career so far.
We are going to have to find a way to not only compete with our competitors, but also with general virtual fatigue.

---
Tools, recommendations & sources of inspiration

What does a typical day look like for you? How do you structure your week?

Due to my role being quite diverse, no week looks the same! But I always start my Monday by re-visiting our data and identifying my goals for that week. I do a Google search on our keywords and see how we rank compared to our competitors and look for any gaps in my strategy to try and fill those higher spots on the SERPs.
My content creation time is always in the mornings! I try to set dedicated time aside when I know I am at my most creative (which is usually between 7-11 AM), and I smash out all of my design work then.
Apart from that, my weeks never look the same.

What brand do you take inspiration from?

I follow the EU company 'Innocent Drinks' religiously! Their marketing is exceptional. I love their online presence and brand personality - it's fun, quirky and relatable. I am completely in awe of their work.
One of my favourite things about them is that they market their mistakes. They have an entire Twitter feed dedicated to typos and I think this is brilliant (and brave!). It reminds us that behind every brand, no matter how big, there are humans.

Software and tools recommendations: what is the one software you can't work without and why?

Asana! My whole life is on Asana and I would be totally lost without it. I create boards for each project as well as weekly to-do lists. Not only that, but you can assign tasks and deadlines to internal and external stakeholders, which means if I'm working with a third-party, it's easy to keep everything visible and tracked in one place.

What are three resources you would recommend for anyone working in your field?

Sign up to HARO - it stands for Help A Reporter Out. It's a great website that sends you emails with topics reporters are looking to write about. If there is a specific topic on there that you can help with, this will boost your media presence.
BuzzSumo - An essential service that keeps you updated with the latest search and social trends. I would be lost without it.
Canva! Especially if you're an amateur designer (like me!) Canva is so easy to use and you can create some truly awesome designs there.