Influencer Marketing: A Definitive Guide
COVID-19 restrictions have disrupted our daily routine, reshaping our digital habits and preferences for certain content to cope. Businesses are quick to adjust as the pandemic has expectedly accelerated the marketing trend toward personalised interactions of influencer marketing. In these times of crisis, more and more brands realise traditional ads won't cut it.  Brands are now turning to the less expensive strategy that taps into relatable experiences and delivers metrics that exceed expectations.
With Australians cooped up at their homes in 2020, consumers looked for alternative ways to reconnect with the world. According to the Digital 2021 report, Australians spent 32 more minutes streaming and scrolling through their social media feeds. Around 88.1% of users aged 16 to 64 watched online videos while 34.5% spent their time online watching vlogs. They looked for informative content to keep them in the loop and entertainment to help them deal with the uncertainty.
---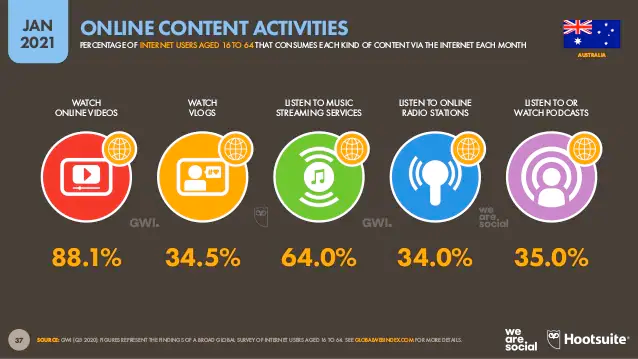 ---
Given the surge of eCommerce demand, Australians' search behavior showed reliance on influencers for information about brands. Along with the acceleration of pre-existing trends, 2021 has seen positive disruptions to brand partnerships and influencer-audience interaction. In a nutshell, brands have recognised consumers' preference for unscripted "everyday" content from influencers and relationship-based interaction. The challenge for professionals is to leverage real influence of "real" people to showcase brand values and relatable narratives.
What is Influencer Marketing?
Influencer marketing combines elements of traditional marketing via celebrity or famous personality with modern tools for digital content creation. Influencer marketing departs from the old in that the strategy involves collaboration, rather than a contract-based relationship, between the brand and influencer. Simply put, it's based on the idea that the brand is asking the influencer to leverage their social clout to improve brand recognition.
Any non-celebrity with a devout following on social media can be considered an influencer. They are viewed to have quasi- or micro-celebrity status for many reasons. Mainly, they are capable of wielding charisma and authority to affect opinion and sway their audience into purchasing a product. Their influence comes from the relationship of trust with followers with whom they have a history of interactions. Influencers are trusted experts in their particular niche, whose recommendation is social proof to potential customers of an endorsed brand.
Through this concept in social marketing, brands and marketers partner pay influencers to show off preference for a brand. You can think of influencer content as a cue to make a wider audience emulate the purchasing behavior of the influencer.
Why is Influencer Marketing important to brands and marketing professionals?
Not so long ago, the term influencer doubled as an insult with users lamenting the saturation of aspiring bloggers on Instagram. Even then, brands and marketers have been paying close attention to the emerging trend as traditional approaches fail to deliver. The advertising industry expects a sharp drop of 19% to $14.9 billion in over-the-air ad revenue in 2021. Traditional banner ads have continued to weaken in effectiveness with oversaturation and low engagement rates (average click-thru rates of 0.06%). If Google Trends is any indicator, the rise of influencer marketing has mirrored the fall of print advertising from 2014-2019.
---
---
Prior to the pandemic, the influencer marketing industry is well on its way to $15 billion USD. It is now forecasted to reach approximately USD $13.8 billion in 2021 from USD $9.7 billion in 2020. Influencer marketing is expected to continue its steady growth beyond pandemic years. More social media platforms and features will offer a different way to consume content and establish an authoritative voice. In 2019 alone, 240 platforms and influencer agencies seeking to streamline contact and workflow between brands and influencers have entered the mature industry. For brands and small businesses, it only means more sales opportunities from the paid and organic reach of viral content across large pools of potential customers.
Despite occasional issues concerning influencer fraud and accountability, the vast majority of marketers and businesses believe that influencer marketing is a powerful marketing channel capable of delivering full-funnel results. Its performance can be tracked with a range of metrics and analytics that respond to the precise goals of brands. For these reasons, Influencer Marketing Hub found a 1500% increase between 2016 and 2019 in searches for influencer marketing guides and agencies.
Although the pandemic has disrupted spending on influencer marketing, Upfluence data suggests that the quantity of active influencer campaigns has soared since Q3 of 2020. According to Influence Marketing Hub data, 59% of brands disclosed having a standalone budget for content marketing last year, with 75% of total respondents intending to set up a dedicated budget for influencer marketing in 2021. Around 62% of those that already have devoted a budget for influencer marketing reported plans of increasing it in 2021. As for those that don't have a dedicated budget, 11% of the brands will spend more than 40% of the marketing budget on influencer marketing. Around 10% intend to devote 30-40% of the marketing mix, and another 19% plan to allocate 20-30% to influencer marketing.
While the pandemic may have the effect of these figures, it has become clear that brands see great value in influencer marketing considering the audience relationship, user-generated content, and content distribution. Marketing professionals and brands reach out to influencers mainly to promote a product launches, store openings, and corporate communications. Influencer marketing allows both brands and small businesses to shift from seller-client relationships to intimate, peer-to-peer connections with their audience. Overall, it is a scalable tactic for maximum conversions and provides accurate picture of ROI as determined by the brand.
---
---
How to work with influencers?
Working with an influencer is not as easy as finding the one with the most followers, likes, and comments. In fact, most marketers struggle to find the most relevant influencer for their campaign. What's the baseline for selection? The influencer should be aligned with the brand in terms of values and product. The right influencer must have personal branding that is in line with brand guidelines or be capable of representing the brand. Hence, authenticity and reliability are factors that should be prioritised when searching for influencers.
From an influencer point of view, influencers say that vetting brand partnerships is a matter beyond thoughts of potential revenue and status. More than ever, influence can be fickle as there is an ever-increasing number of potential influencers. Influencers often choose to partner with brands that will be relevant to their relationship with followers. They will also work with brands that respect them as independent creators and the work they bring to the table.
With these primary considerations out of the way, these are the most effective methods to find the right influencers for your brand.
---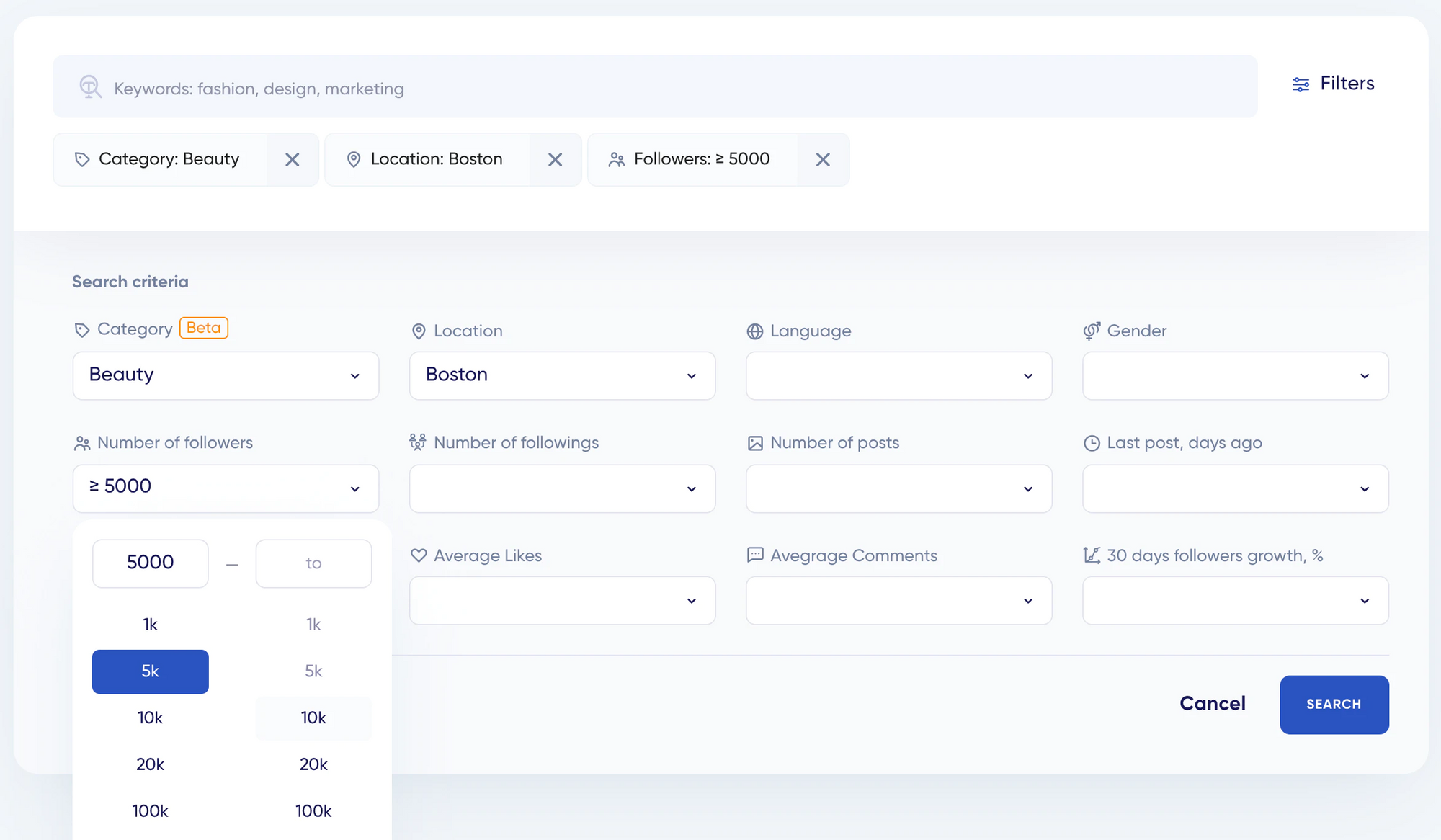 ---
How to find the right influencer
Search by profile category - On Instagram, creators have business profiles that indicate their category. However, you cannot filter your search for influencers by category. Another challenge is that some influencers end up in other categories. Fortunately, there are AI-powered external services such as trendHERO that assign influencers to their categories based on general theme of content. It will help you gather a list of real influencers and analyze audience type and interests.
Find nearby influencers - For local brands and small businesses, another solution is to narrow down the search by geography and audience size. External services such as trendHERO and HypeAuditor let you export a list of influencers within an area. This is one way you can focus on the potential customers near you and maximise conversions.
Analyse consumption behavior of your followers - A sophisticated approach to finding the right influencer involves analyzing other accounts that your followers interact with. With trendHERO, you can easily access reports containing this information and learn about the content your followers are interested in.
Review sponsorship history - As part of their in-depth influencer analytics, trendHERO and HypeAuditor lets you check who the influencer is partnering with. You can see how often these partnerships occurred and how these posts performed in the past. HypeAuditor, for example, lets you check influencer's earned media value so you can anticipate the returns for every $1 spent.
Manual search - While this method will take up a big chunk of your time, searching for the right influencers through Google and Instagram can be a viable alternative. TrendHERO pricing starts at $9.99 for the Lite subscription that includes influencer discovery, engagement and audience analysis, and ad efficiency.  However, small businesses might simply choose to google influencers and search influencers by popular hashtags relevant to their niche. Without the help of AI, you can still search for local influencers in your area through Instagram's location tag feature. Lastly, you can subscribe to niche influencers that Instagram recommends. From there, you can analyze their content and visit the Mentions tab to see brand or business accounts that have mentioned them.
Check your following list - Who knows? You might just have an influencer lurking in your following list who loves your products and interacts with your content. Partnering with influencers who already know your brand ensures that you're forming a genuine relationship that puts authentic content out there.
Common pitfalls to finding the right influencer
Meanwhile, not all businesses are the savviest when it comes to initiating and managing influencer marketing campaigns. Here are some things to avoid when looking for influencers:
Solely relying on the engagement rate of influencers runs the risk of partnering with accounts that buy fake followers to artificially bump up engagement.
Considering influencer marketing campaigns targeting a specific market and avoid partnering with macro-influencers in an attempt to cast a net over a broad niche as this often provides for returns. Influencer campaigns should strive to access audiences with specific interests because they will likely have higher engagement rates.
Authenticity is more important than ever in influencer marketing. The backbone of the influencer-follower relationship is credibility and trust. Watch out for influencers who have taken on too many sponsorship deals, appearing inauthentic and spammy.
Avoid going for influencers who have built a devout following in one social media platform only. As mentioned earlier, marketers and brands seek influencers for optimised user-generated content and content distribution. Ideally, the right influencer for your brand should be able to find ways to generate high-quality leads across many platforms.
If you're a small business partnering with a new influencer, it would still be reasonable to compensate for content creation with product samples or discounts. If you're a brand is willing to pay cash for influencer marketing campaign, you still have the right to pay equal to your expectations. In this regard, steer away from influencer agencies that charge way over the market rates for your campaign specifications.
---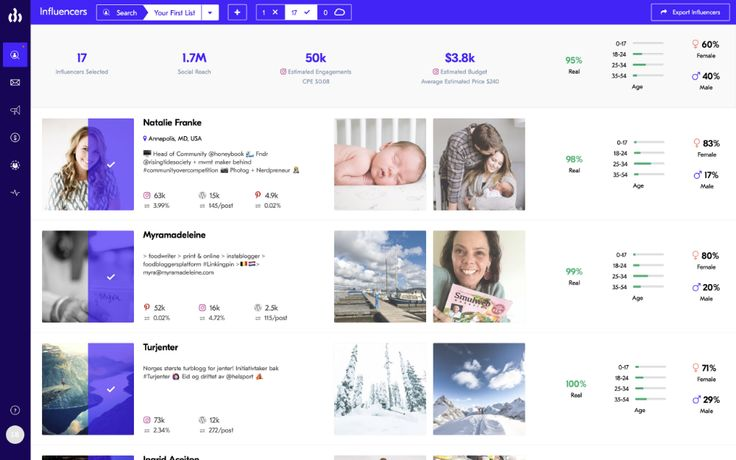 ---
Now, that you're familiar with the methods and strategies for searching influencers, the next step is reaching out to them. Here are tips on how to start working with an influencer:
According to the Upfluence definition, there are different categories of influencers based on the size of their following.
Nano-influencers (+15K followers) - These influencers are just starting out and made a name for themselves being an advocate for something they love. They have a devout following that regularly interacts with their content and seeks their recommendations. Nano-influencers have an intimate relationship with their followers, and they are responsive to them. Small businesses would benefit from partnerships with nano-influencers if they are new to this type of social media marketing. Because they are perceived as authentic and credible, nano-influencers can give honest reviews about a product or service. If it's a good review, their audience will believe it and could potentially become your next loyal customers.
Micro-influencers (15K-50K followers) - While they may have large followings, micro-influencers are still considered relatable figures on social media. Their followers are highly engaged and interested in the specialized niche. For mid-size businesses with a budget, they can expect more high-quality leads from influencer marketing campaigns of this type.
Mid-tier influencers (50K - 100K) - Most influencers reach the peak of their status at this level as more influencers come in and saturate platforms. To stay relevant in the space, mid-tier influencers have to hone their expertise and solidify their reputation. They become key opinion leaders in their niche as they try to extend their reach and maintain the best image. Mid-tier influencers are great for small brands since they are experienced in creative and content creation that will boost visibility.
Macro-influencers (500K - 1M) - With their huge following, macro-influencers tend to be popular among followers with a general interest in their work. They are the rising internet celebrities known for high-quality content production involved in vlogs, podcasts, gaming, CGI, photography, among others. If you're a brand with a bigger budget to tap broader audience types, macro-influencers can help with brand awareness objectives.
Mega-influencers (1M+) - At this level, there's not much of a difference between a celebrity and a mega-influencer. Mega-influencers are not that difficult to find since they are usually famous even outside of social media. Since they are celebrities in their own right, mega-influencers create content that has huge advertising value. They have the largest and most diverse audience with a high engagement rate to their posts.  If you're a B2C brand looking to drive mass brand awareness influencers at this level could be a great option. However, you should also know that they tend not to have a close relationship with their followers. A risk worth considering is that mega-influencers have all eyes on them so an association with them through partnership can have a positive or negative impact on the brand.
---
---
Additional tips to finding the right influencer
Before contacting an influencer, you must identify the values and goals of your brand. You'll never find the right influencer for your brand if you don't know what sets it apart from the competition. A brand awareness campaign is doomed to failure if you are unsure about the principles and message you want to emphasize.
Influencer marketing is all about healthy collaboration between a brand and an influencer. Every influencer has a unique voice and creative approach to content creation. Most of all, they care about their audience more than anything. Brands and businesses must first understand that creative freedom preserves the authenticity of the message.
The most important thing to remember when searching for influencers is that they too have a vetting process for brand partnerships. Send clear briefing documents to selected influencers containing proposed compensation and conditions, timing, content requirements, and copy guidelines. Set a goal for the campaign and make sure the influencer is on the same page. Detail-oriented communication is the key to successful campaigns and recurring partnerships.
At the end of the campaign, it will be your responsibility to analyze whether the results satisfy or surpass the goals. You can ask for the post's analytics and compensate for the work on the basis of a metric-specific performance.
Is Influencer Marketing still effective in 2021?
There is no definitive way to measure influence. What we do know is that majority of users trust online reviews from influencers potentially as much as friends and family. People of all ages validate their purchasing choices, from the smallest items to splurges, and take action after seeing good reviews. This is why authenticity and credibility is so important as most people can distinguish advertisements from personal recommendations.
When it works, an influencer message can offer an alternative to traditional online advertising media in a time of increased ad-blocking and lack of cut-through. According to the Influencer Marketing Hub poll, half of the firms working with influencers operate ecommerce stores. Around 59% of all respondents employ affiliate marketing strategies via influencers to promote products. For each $1 spent on influencer marketing, the reported ROI could be 500% or more. Brands realise that influencer marketing campaigns bring in customers who are more willing to spend on high-margin products and add-ons.
From Linqia 2021 data, more than 50% of enterprise marketers reported that influencer marketing outperformed or performed the same as brand-created content. 43% of the respondents admit that they partner with 5-10 influencers at a time. These findings demonstrate the cost-effectiveness and scalability of influencer marketing campaigns. The impact on their bottom line encourages 71% of marketers, from 57% in 2020, to increase budget in 2021.
---
---
What are the latest trends in Influencer Marketing to watch out for in 2021?
Influencer marketing in 2021 has become more sophisticated and crowded as more influencers and platforms vie for attention. Strategies are evolving as businesses become more conscious about implementing new features that tie back to measurements of influencer ROI. Nevertheless, the essence remains: businesses need to make their brands relatable and prioritise value they can offer through real connection. Once one-off moments on social media, influencer marketing campaigns are now more crucial than ever in humanising brands.
We've rounded up the below industry trends and predictions that you need to know to be able to adapt and yield better results.
Brand values and authenticity - Brands will now focus on communicating their values through relatable narratives. Meanwhile, influencers will be more mindful of selecting brands they will work with to avoid alienating their audience. Both the influencer and audience should feel excited and passionate about a product or service. While creative freedom is crucially important, it is not the sole basis for authenticity and credibility.
Video content is king - Millennials and Generation Z are now spending most of their online watching videos. Even the older generation are now opting to watch online reviews and other topics that they wish to know on impulse. YouTube remains the preeminent site for all types of video content, with How-tos, tutorials, and hacks being the most popular. The thirst for video content will never be satiated, even with platforms like Instagram Reels and Facebook.
Tiktok will be the biggest influencer platform - 2020 saw the stellar success story of Tiktok from being an outlier to becoming the biggest threat to top platforms. In fact, Tiktok beats Instagram as the biggest site for influencer marketing with 75% of 800 million users being daily active users. As of this writing, Tiktok overtakes Facebook as the most downloaded social media app in 2020. Influencers who went along with the take-off were able to build a massive organic audience. They are now cashing in on brand-creator partnerships around topics like fashion, business, fitness, and productivity.
Massive growth in live streaming - Authenticity will be on everyone's lips and there's no better way to connect to the audience than doing a livestream. The statistics on global live streaming is an eye-opener for enterprises and marketers. Twitch, currently the biggest live streaming platform, tallied 93 billion minutes watched in 2020 -- a whopping 69% increase over 2019. The gaming-centric platform has enjoyed a revenue of $1.54 billion in 2019. This will only increase dramatically with  9.7 million streamers going live each month in 2021, according to TwitchTracker. Daily viewership and active users are also expected to increase as the pandemic drags on. Outside Twitch, Facebook Live reigns supreme as the world's online marketplace, while YouTube finds massive growth in live content viewership.
Micro- and nano-influencers set to take center stage - Gone are the days when only celebrities and mega-influencers get the limelight and revenue opportunities. The majority of success in influencer marketing is now coming from the creative work of micro-influencers. Nano-influencers and micro-influencers never have to pay for extra reach, already having a solid number of followers with already impressive engagement. For example, Influencer Marketing Hub notes that micro-influencers on Tiktok have a nearly 18% engagement rate while mega-influencers are getting under 5%. Influencers in the lower tier are just happy being content creators. They are passionate about the products of brands they choose to work with. In short, brands and businesses will gain more upside working with these influencers for less cost.
Long-term collaboration / ambassador programs - Rather than one-off transactions, brands now prefer to cultivate long-term relationship with influencers. 56% of brands develop relationships with the same influencers for next campaigns, according to the 2021 Influencer Marketing Hub poll. This arrangement is more convenient as 34% of brands admit that finding and meeting with influencers remains a big hurdle. In terms of marketing strategy, 67% of brands prefer launching campaigns with specific goals rather than going always-on.
Voice/Audio-based platforms on the rise - As consumers gravitate towards short-form content, the influencer industry sees a brewing opportunity in music streaming, podcasts, and other audio content. Recently, younger users have been exploring other content formats and turned to live podcasts. In the "social audio platform" Clubhouse, they are able to listen and participate in unscripted conversations on many topics. Clubhouse appeals to users who seek to widen their network and give a meaningful contribution to real-time discussions. Music streaming platform Spotify has its share of over 299 million listeners tuning in to podcasts series to engage in a genuine connection with its creators.
Performance-based deals - With brands marketers allocating bigger budgets on influencer marketing, they are now increasing awareness around influencer marketing fraud. They are wary of cases involving mass followers and unusual engagement behaviors from bots and inactive accounts. Hence, brands and marketers realise that carefully reviewing metrics is just as important as initiating a campaign.
Cause Marketing - Being authentic and trustworthy means that brands have to be transparent about their values and where they stand on issues. The savviest brands use their influencers to communicate their goodwill and purpose-driven message that resonate with the audience. Brands have to be more vocal to be seen as trustworthy and sincere about serving their purpose in society. Consumers will become more loyal to brands that emphasize sustainability and inclusivity.
Employee Advocacy Marketing - Not all influencers have to be social media personalities getting thousands of likes and comments. In 2021 and beyond, brands will realise that they already have the most cost-effective and impactful people to represent them. Nike sets a brilliant example of how to leverage the authenticity of internal influencers. The sportswear giant has recently released a short series of films branding their in-store staff as experts and athletes. The films feature relatable narratives about their work to convince customers to come into Nike's physical stores. This is an example of an ingenious influencer marketing tactic that will make customers feel closer to the staff and give them their trust.
The growth in eCommerce will require creativity - The pandemic has shut down many jobs but opened up opportunities in eCommerce. More brands will expectedly appear on the market, which means this is a great time to become an influencer. More influencers will become popular along with the growth of new social media platforms. Obviously, brands will require creativity from influencers to promote products, share user-generated content, and offer promotions. Influencers have to stay visible and relevant across content options in innovative platforms. Hence, paid advertising for influencer content will be critical for granular targeting of larger high-quality audiences.
Diversity, equity and inclusion - In light of increasing awareness on issues around gender, race, and culture, brands and influencers have the authority and voice to affect change. The brands that will survive the turbulent times are the ones that celebrate diversity. These can be individuals or groups of people representing LGBT+, older people, women, different ethnicities, and intercultural relationships.
What are the challenges and strategies for running successful influencer marketing campaigns?
While the incredible results cannot be ignored, not all businesses are sufficiently ready and knowledgeable to take on the challenge. Back in meeting rooms, managers and employees go back and forth on the benefits and risks of influencer marketing. Often the discussion weighs heavy on the risk side. Some managers still believe in the conservative promises of the traditional approach.
The truth is businesses cannot rush the preparation needed to launch a productive influencer marketing campaign. There are many things about influencer marketing that firms misunderstand, such as authentic content creation and measuring influencer ROI.
Influence has many faces. Influencers can be celebrities happy to endorse your products or services. They can also be analysts that form and present empirical data or facts to help their audience understand a topic. A good understanding of what kind of influence an influencer has and the way they engage with their audiences is crucial for launching a successful campaign.
Many businesses are unsure whether to run influencer marketing campaign in-house or through an influencer agency. The biggest upside to in-house operation is that it is budget-friendly for startups. This option allows you to have effective oversight of the campaigns. You also get to develop genuine and long-term relationships with influencers who already feel close to the brand.
Most brands prefer campaign-based rather than an always-on relationship with influencers. After all, brands prefer to narrow their focus and resources to specific campaign goals for maximized conversions. Is campaign-based influencer marketing relationships the better option then? The answer is, not necessarily. The industry may eventually shift to always-on relationships for a few reasons. Always-on campaigns may be the better option if a brand seeks to cultivate genuine, long-lasting relationships with the audience. This strategy gives the brand more time to earn potential customers' loyalty through ongoing exposure and engagement. With always-on campaigns, your business gain access to longitudinal data about the behavior of your audience. You can build on that information to create effective messages and launch unique influencer marketing campaigns at scale.
Friendly and fair proposals can get you influencers who can work within your budget or other preferred forms of compensation. Nano and micro-influencers may happily accept discounts or generous packages of product samples.
There is a level of control you can retain over creation of influencer content without compromising its authenticity. For instance, you can establish firm guidelines of what not to do to avoid hurting the brand's reputation.
In general, there is no best way to measure influencer ROI other than specifically evaluating your desired outcomes. Most marketers and brands prefer to measure ROI by conversions/sales and earned media value. However, you can also examine regular reports of other funnel metrics and implement other tools like tracking links and conversion pixels. If you are aiming for granular targeting of future campaigns, you may roll out UTM tags and custom landing pages or offers. You can also separate and quantify the impact of leads from your influencers and customers by offering coupon codes and unique affiliate links.