Marketing Manager at Berkley Insurance Australia: on staying connected and providing new automated services.
---
At Marketing Trends, we are discovering what drives Australia's top marketers. Maria Gonzalez shares with us how Berkley Insurance Australia adapted their marketing strategy during lockdown to stay connected to their customers, and the role automation is playing in providing new and better insurance services. Read her full interview below.
---
Career & professional background
Maria, how did you decide you wanted to pursue a career in Marketing?
I actually started my career working as a florist! From there, I moved into event management, starting out at an agency doing events for big SaaS companies, such as AWS, Google, Salesforce, and many other IT security companies. This is where I built a real passion for events.
Through this, I had the opportunity to meet many inspirational marketers and strong women that were leading marketing campaigns in the Asia Pacific region. This started to peak my interest in learning more about the other side of marketing, and motivated me to expand my knowledge base.
I went to university and did my marketing degree, which slowly led me from events to marketing, and here I am today, as Marketing Manager at Berkley Insurance Australia.
My career has evolved, but being a naturally creative and organised person, it only made sense for me to make that journey.
Would you still be a florist or event manager if you hadn't pursued a marketing career?
I still love flowers, and I do love to visit the flower markets and immerse myself in the seasonal beauty of it all. However, if I was not in marketing, I would be working in the events' industry. My passion for events and the thrill of being under pressure has never left me. I also love bringing a marketing campaign to light and ultimately providing people with a fantastic experience. Events are such a big part of marketing, and it allows brands to push their story in a face-to-face way. Plus the people factor, I am a definite people person who loves to be part of a crowd and all the action that it entails.
But at the end of the day, I can safely say I have thoroughly enjoyed my career journey so far and where it has landed me today!
When did you start working at Berkley Insurance Australia? Can you tell us about your role?
I started working at Berkley Insurance Australia in January 2020. Before I started, they didn't have a marketing department. They had done some advertising before, but the overall marketing strategy was basically non-existent. This allowed me to start from scratch, which for me was a dream.
Then COVID hit, and I had only been two months into a new job in an entirely new industry, and was faced with the challenge of keeping our customers connected whilst we all transitioned to working from home. I had to basically scrap my initial marketing plan and start again to come up with ways to maintain the broker and insurer connection.
My role is everything to do with marketing, from running campaigns, creating plans, advertising, design, digital...you name it. However, I see marketing at our organisation as a real collaborative effort. Different people across the entire organisation are involved in the brainstorming process, and their input, it'ss what allows me to understand our customer's pain points. Their feedback is necessary to come up with creative marketing ideas.
The other important part of my role is ensuring that our teams across the country are receiving the marketing support they need, especially now that we are slowly going back to live events and interacting more face-to-face.
Marketing & Industry Trends

How is BIA currently handling remote working?
We started a partial migration back to the office last month, and like many other companies, we will continue to have a mix of on-site and remote workers.
We had a strong business continuity plan in the beginning that the whole process of switching to remote work was seamless. Berkley Insurance Australia has continued like business as usual, and we were still able to provide the support to brokers that they were already accustomed to.
We also believe adapting to the needs of the changing work environment has a role to play, especially when you want to remain at the forefront of an industry. We are currently developing our own automated online instant quote and bind system to give brokers flexibility with how they interact with us.
Our new portal will launch in the next few months, eliminating the need to work at regular hours, and brokers can do business with us when and where they like.
How did COVID-19 impact the company, and how did you handle it from a marketing point of view?
I was quite new to the business when the pandemic started, and everything changed in an instant. Not only did the company have to change the way it operated, but we also had to make sure that we were still communicating with our customers.
We decided that online education was the best way to stay connected to them. We started hosting webinars, and the response was overwhelming! We had thousands of our customers registered for every event, who were eager to watch our specialist presenters cover relevant topics and happily participated in open discussions directly with our experts. The success of these webinars continued all year, we already have a great lineup of presenters and topics for 2021.
Being present online in 2020 was a major focus as it was the only way to reach people. We ensured we have a good amount of online presence across various channels and in varied forms.
Looking ahead this year we still want to balance our online presence and with traditional face-to-face meetings and are looking forward to adding more live events into our mix. Now that many people will continue to work remotely or part remotely it's important to have a mixed strategy of reaching our customers.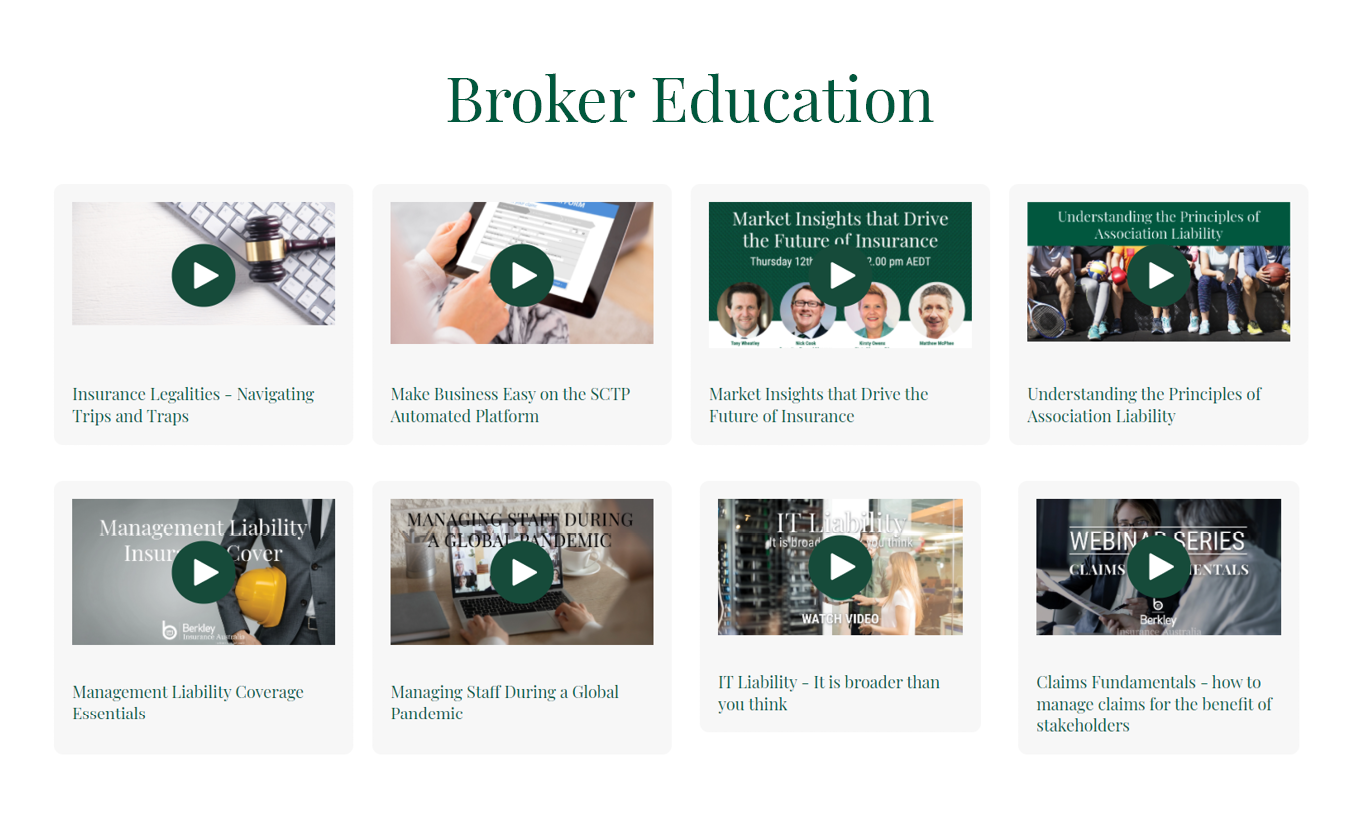 What trends in marketing do you find exciting?
I guess in terms of innovation, AI and machine learning are the next big things. Not only in the insurance industry, but in every industry.
Automation is something we have a strong focus on this year to make sure that we're providing different avenues for our customers to do business with us. Some people might prefer traditional methods, other people who are probably working flexible hours, may want to transact with us at a time or place that suits them.
We want to make sure that we have flexible services available to suit the changing needs of our customers. We recently launched our online claim submissions through our website enabling brokers to submit a claim when an incident has occurred and ensuring they have the quickest response time from our claims team.
As I mentioned before, we are a couple of months away from launching our instant quote and bind platform where brokers can an instant quote in less than 30 seconds and bind a complete policy in under five minutes.
However we are not steering away from the traditional and we are more than happy to transact with our customers directly in the same way we have always transacted with them, continuing to retain our speedy service turnarounds.
What do you consider the biggest challenges moving into the future?
Preserving the human touch now that we are moving towards more and more automatic transactions. We still need to maintain social interaction and relate with customers personally, even if we want to give them a streamlined service.
Although technology is becoming so advanced we cannot yet replicate the human connections that come from communication and empathy, still vital in the insurance space.
Another challenge is acquiring new customers. It's always been a challenge, but now we also need to cut through the noise of so many different messages from so many different companies all focusing on their online presence. Being different and standing out is going to be harder than ever.
We have so many channels now to connect with our customers that driving engagement for each is hard work and marketers need to constantly move to channels their customers are using, adopting their messages to suit each channel. We are constantly seeing new tools customers are using to connect like the rising popularity of closed app Clubhouse.
There is also an increased amount of competition in the digital space and changes in privacy laws will affect the future of re-marketing and digital marketing as a whole.
Tools, recommendations & sources of inspiration
How do you structure your days?
I'm a big pre-planner. I plan everything: projects, months and weeks ahead. Then I break that down into days.
I wake up quite early at 5:30 am, open my laptop, check my diary and go through emails and my schedule for the day. With a fresh mind and no distractions, I get to focus and organise what I'm doing that day before my daughter wakes up and chaos kicks in!
Each day I try to leave some time for anything random that might pop up. This is important because there's always something unplanned that needs to be done immediately, so you need to allocate that extra time to be able to do it.
Sometimes it's after hours when my toddler has crashed for the night and I can get stuck into something quickly.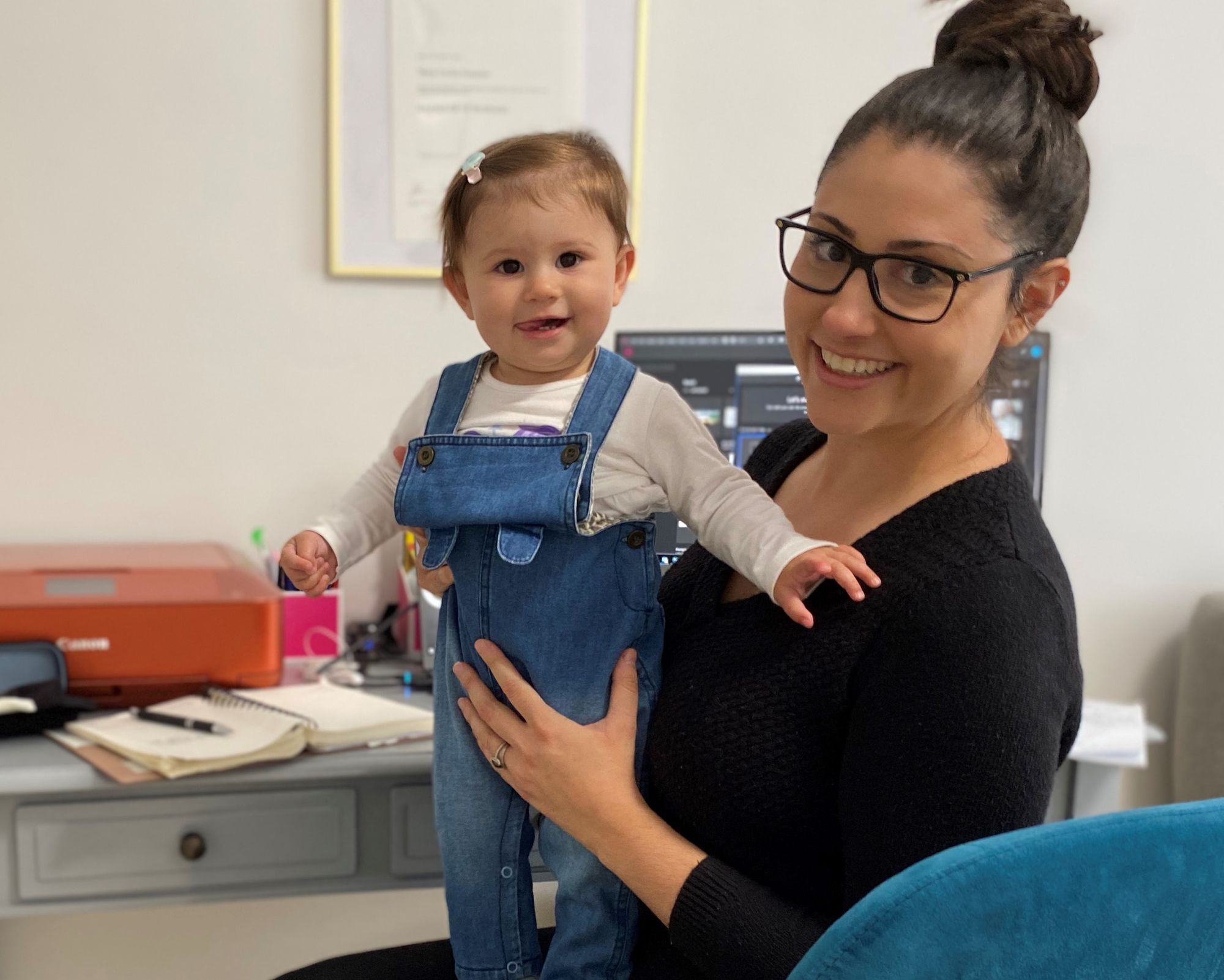 What brands and companies inspire you?
LinkedIn is a great source of inspiration for marketing in general.
In terms of brands, I think Canva would be number one. They are one of Australia's fastest-growing startups, who created an online graphic design tool that anyone can use, that's pretty cool. From a small idea that grew from a garage office to a billion-dollar company, it's 100% inspirational.
On an international level, I find brands like Burger King inspiring because they are different, they take risks and their messages are funny. Sometimes their messages are a bit controversial, but they are memorable and gain a lot of attention.
If you don't take risks in marketing, you are never going to stand out from the crowd.
Any software and tools recommendations?
My definite number one software that I could not live without is  Adobe Creative Suite. I do part of the graphic design at Berkley Insurance Australia so it's a great tool to create advertisements, edit video, content and even photos.
Another vital tool for every marketer is a good email marketing platform. I use Vision6, which is an Australian startup, and they're fantastic. I also like the idea of supporting other Australian businesses. Staying connected to customers is important and email still works very well.
Other than those two it would have to WebEx Events where we can host live webinars for up to 3000 attendees. Webinars have been a game-changer for Berkley Insurance Australia and we want to continue to provide these education sessions that continue to be popular.
What are three resources you would recommend for anyone working in your field?
Marketing School is a very good marketing podcast. They talk about everything that's happening right now in the industry from digital marketing to SEO to eCommerce. The best thing is not having to listen to an hour-long podcast because I get quite distracted and these episodes are around seven minutes long. Perfect for anyone who likes bite-sized information.
Influence: The Psychology of Persuasion by Robert Cialdini. It's a bit of oldie but a classic and must-read book for any marketer.
Doing research. I'm constantly researching and reading blogs about what my competitors are doing and what people in other industries are doing. In this sense, LinkedIn and Google are great tools that provide the latest information.