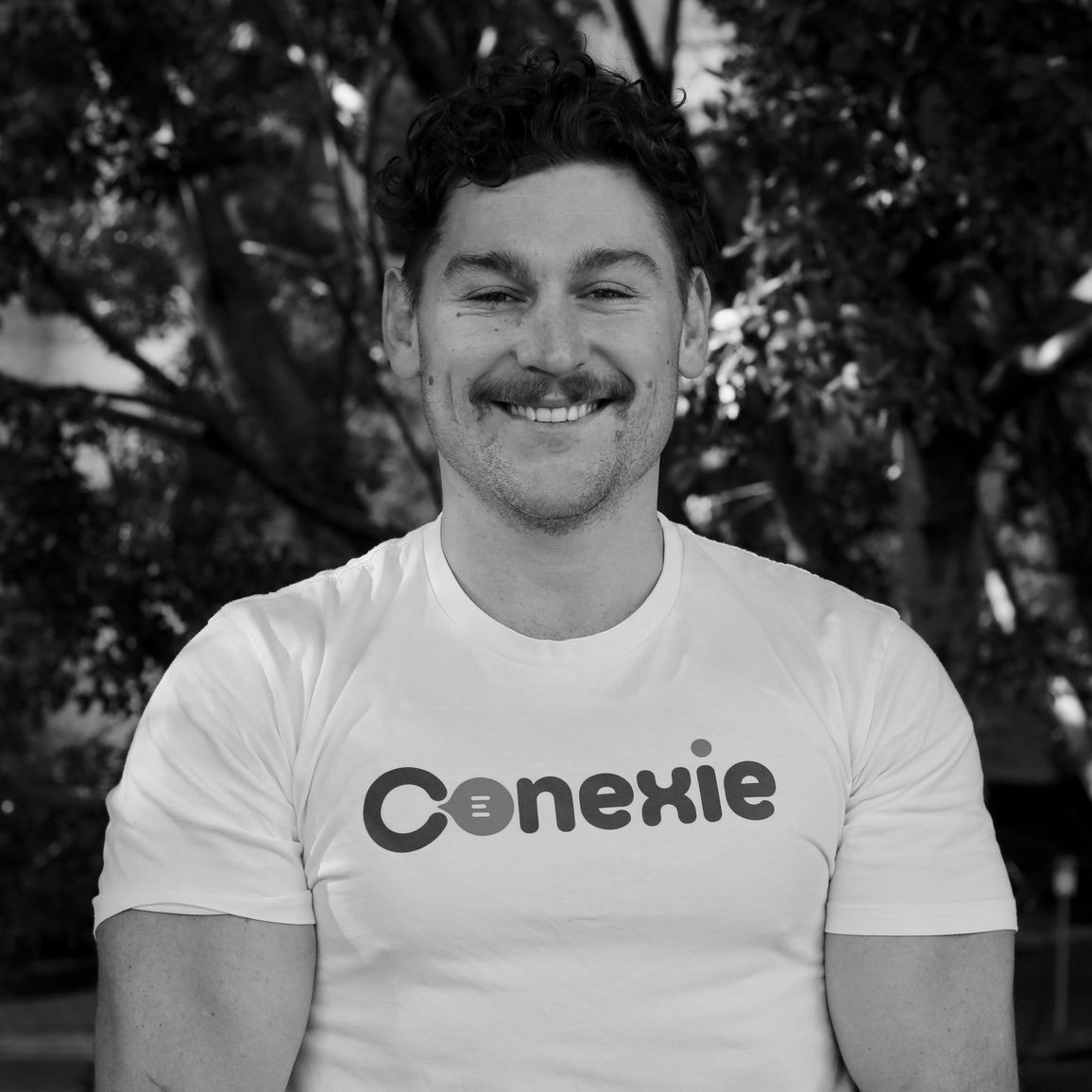 Strategic Advisor at Conexie | Client Principal at Equal Experts: On Conexie's journey from finding its product-market fit to empowering people to do great things.
---
At Marketing Trends, we are discovering what drives Australia's top marketers. For +4 years, Matt Waugh has been Head of Growth at Conexie, a three-sided marketplace specialised in raw data curation. In this interview, he tells us how they adapted to find their product-market fit, his transition to a strategic advisory role and his new position at Equal Experts.
---
Career & professional background

Matt, how did your career start?
When I finished high school, I was playing football semi-professionally, and as a part of that, I got an internship at Channel 9. My role was a mix between marketing aid, promotional driver,  office hand… I basically did a bit of everything.
During my internship, I had a great boss, Kieren Pittard, who at that time was the national marketing manager for Channel 9. He mentored me, and it was there that I fell in love with the fast-paced, consumer-media marketing that we were doing.
My role eventually evolved into becoming the national marketing coordinator, under Kieren's mentorship. This meant the end of my football endeavours, but the start of my passion for the industry.
If you weren't in marketing, what other career path would you have taken?
Besides being one of the founders at Conexie, I'm also a professional firefighter, which I consider to be a great perspective stabiliser, and from where I learn lessons for my own business.
When you get called for an emergency, you need to do exceptional work every time, since you are probably dealing with the worst day of someone's life.  Doing an exceptional job is something that I definitely try to bring into Conexie.
And in terms of gaining perspective, being a firefighter allows me to understand that missing a sale or falling behind schedule is not the end of the world. So both careers definitely compliment each other.
Marketing & Industry Trends
Could you tell us about Conexie?
It's been a long journey to get to where we are today at Conexie. The original concept was called Fixit, and it was an agnostic software solution that was accessible to everyone.
The idea was to simplify people's observations in regard to urban maintenance. So, for example, if you saw a bin overflowing with garbage at a park, you would have been able to report it to the pertinent institution through the platform.
It was all about curating information to go to the right person, at the right time, using georeference and smartphone apps.
We set that up, launched it, and learned the hard lesson in startups: don't build something until someone tells you they want it. And the councils certainly did not want it!
Fortunately, we learned early on, we were still at the MVP stage, but then we started to find our market-fit. We went from being specifically about urban maintenance, to being  about holistic communication.
Yet, the ethos is still the same: getting the right information to the right person at the right time. Closing a communication gap between different stakeholders, with common goals and providing a common platform.
That is how we evolved into what we are today, a platform that visualises the consumption and production data of residential and commercial energy sites in real time.
At Conexie, we're solving a three-sided marketplace:
End-users get a tool to improve their energy behaviour and have a better relationship with their carbon footprint.
Solar installers and resellers access a tool that helps them reduce barriers to conversions, which ultimately incentivises more people to go green and utilise renewable energy sources.
Solar energy investors or capital providers have a tool that enables them to scale their investment portfolios and financial operations.
From our perspective, this is the perfect application of our software, and it's empowering people to do great things for themselves, their businesses and the planet.
How's your team built and what's your role at Conexie?
We are three founders. We all have a distinctive role and manage our own team: Sebastian focuses on Product, Jake on Sales, and I focus on Growth and Partnerships. Yet, I am now going to transition into a strategic advisor role, in part because I am very excited to be joining Equal Experts, a network of talented and experienced software associates that specialises in solving complex business problems with agile delivery methodology. I will be taking on the role of Client Principal in their team.
Eight more people build the rest of the team at Conexie and work on specific areas, such as iOS development, Android development, web portal and customer success.
So in total, we are 11, fluctuating between full-time and part-time depending on capacity or need.
Until now, we haven't outsourced any of the marketing work to agencies. We are probably reaching a critical mass of scale at the moment, so we might need to start looking into doing it soon. As it might be for a lot of startup founders, it's quite hard to relinquish this part of the work, because it requires having an intimate understanding of the customer's needs.
Finding the right agency is going to be a challenge in itself. But I'm looking forward to it, it'll allow us to focus more on the business as a whole and where we want to be tomorrow, not just today.
What type of impact has COVID- 19 had on your industry and company?
I think we can all agree that COVID's damages far outweighs any of the positives we could mention. With that being said, in regard to our industry, the pandemic brought solutions like ours to the forefront. Being an optimising software, our solution became more of a business investment necessity.
Companies that install our software are able to free up resources instantly. This potentially might allow them to keep employing a staff member, or allow their teams them to focus on ulterior objectives. The ROI our Conexie provides to customers can be in excess of 500% in the first year alone.
So in this sense, the pandemic raised the urgency of implementing optimisation software, things that directly help businesses survive, and turned running lean into a strategic priority.
We definitely don't take for granted that it's been positive for us. Actually, what motivated us to make the most out of this opportunity, is knowing that delivering our product effectively could mean the difference between someone keeping or losing their job or even a business staying afloat through volatile times.
Our goal was always to empower people to do what they were already doing, but to provide technology to allow them to excel at it! It was never our purpose to replace people, I think any software that's designed to do that is short-sighted and probably doesn't have a sustainable future. Whereas a software that will complement and empower the end-user, those solutions will thrive.
What's the most exciting trend happening in marketing for you?
Customers are in need of a human connection, probably more now than ever. They want to engage with humans and stay away from chatbots, which mostly frustrate people.
There's so much of our social interactions now that it's virtual, that it's important for businesses to go back to basics and connect human to human. To show empathy and care for their situation.
For ad campaigns, that means more emphasis on emotion itself. I think in Australia we'll start seeing a trend that's already evident in Europe and the US. American and european companies are making a bigger emphasis on human contact and reducing impersonal  automated responses.
Marketing, in general, has been too focused on automation, data and developing tools that were not end user centric for the last 5 to 10 years. The industry has been constantly looking at ways to scale outcomes without considering what we could lose in that process. So in terms of trends, more personal connections with audiences is going to be much more noticeable industry standard.
I also think we'll be seeing a decay in expensive real estate or billboard marketing. Nowadays, we're in a position to advertise directly to somebody while they are experiencing a pain point rather than six hours after they felt it on their drive home; I find this very interesting, the opportunities it creates are substantial.
Lastly, an exciting trend for the B2C industry is the amount of unfiltered consumer data we now have at our fingertips. I believe that if the right optimization tools are utilised, we can create previously unthinkable, truly curated user experiences.
As a marketer, what do you believe is the biggest challenge facing the future?
Migration away from brick and mortar customer facing facilities is going to create some scaling challenges for a lot of organizations. Especially B2C companies that have done things one way for the last hundred years. There is a clear divide in the businesses that have thought about these needs pre-covid and those who are scrambling to catch-up post.
Brands now have a war chest of consumer data that they acquired last year,  this data also adds complexity if utilizing it lacks strategy or adequate complementary tool sets. It's going to be the businesses that adapt fast and effectively that are going to succeed. The ones that don't invest in innovation/digitisation and data science based practices, are going to probably sink very quickly.
In regards to B2B, I think the challenges revolve around prioritization of investments. Businesses across the market, as I mentioned, are leaning up. So the challenge would be for companies to provide solutions that are part of the leaning up process: Successful B2B solutions have to ask themselves how can you become a necessary item for a target business to invest in? And market themselves accordingly.
Tools, recommendations & sources of inspiration
How does a typical day look like for you?
Having an 11-month-old baby boy I guess there is no typical day! But I start every morning with a leadership team scrum meeting.
That means we do a quick 15-minute call where we triage the needs of the day and we try not get bogged down in the details, it's literally what we need to do today.
Once we finish our chat, we all go to our respective departments and organise our work based on the common goals that we addressed in the meeting. We also coordinate any collaborative work that might be needed between teams.
After that, I make sure to solve anything that's immediately actionable. I execute the tasks that are sitting on my side of the court and might be delaying somebody else's work and stop progress from happening.
I leave the more complex tasks of my job for the next stage of my day, although at this point, oftenly, I don't have many hours left.
I believe it's imperative to always move towards your goal. Anything, no matter how minuscule it might be, that leads you towards the 18-month rolled out roadmap, well that is a step in the right direction.
It's a bit cliche, but I try to live off the concept "if it's important, actionable and you're pivotal to the success of it: it needs to be done. If it's important, actionable and you are not pivotal: try delegating it. If it's not important but you're pivotal to it: put it on the backlog… although it'll become important soon enough. And if it's not important and you're not pivotal, then you should be asking why you're even doing it at all."
Software and tools recommendations: what is the one software you can't work without and why?
We actually use an array of platforms to manage our business.
Personally, I live on LinkedIn. It's not a software per se, it's a platform, but I find it provides invaluable insights on market trends, trending news, HR movements, acquisitions, funding, deployment, etc.
There are other platforms that can provide that information as well, but for me the difference is its social attribution. On LinkedIn you're getting to see the individual  professional's opinions and not always the organization's voice.
Businesses often communicate the amazing job they are doing and publish the metrics that might benefit them. Yet, if you go into forums, blogs and chat, you might actually get a real insight on the business through the company's employees perspective.
That means I can really understand a certain pain point in an organisation and adapt my marketing to compliment it. So for me, LinkedIn provides you an opportunity to listen and learn from professionals who might be overworked, stressed out and not being heard by the competitive software providers in their marketplace. This is where genuine opportunities can be prospected.
What type of brands inspire you?
I really look up to a clothing brand named YKTR. The founders are unapologetically themselves and the brand reeks of this. They are not all positive attributes but they are all deeply genuine traits and I admire their brand integrity because of this.
What resources would you recommend for anyone working in your field?

I really like the Jocko Podcasts, by Jocko Willink, an ex U.S. Navy SEALs. It's a bit extra in the way it's presented, but I like his approach and his mantra on how to deal with bad things and hard situations. I guess it's similar to what I learn being a firefighter. It allows you to gain perspective and shows you how to make the best out of the challenging situations we face in life.
The Hard Thing About Hard Things. This book flips business leadership on its heads, because it's not the typical story about successful business strategies. The author, Ben Horowitz, reflects on his own experience on building a business from nothing, to earning billions and going back to nothing, amongst many other things. I find it especially interesting his insight on being a wartime CEO or a peacetime CEO, depending on the circumstances. It's also incredibly valuable that he even provides in the appendix a set of questionnaires and surveys to measure empathy and use with your team.