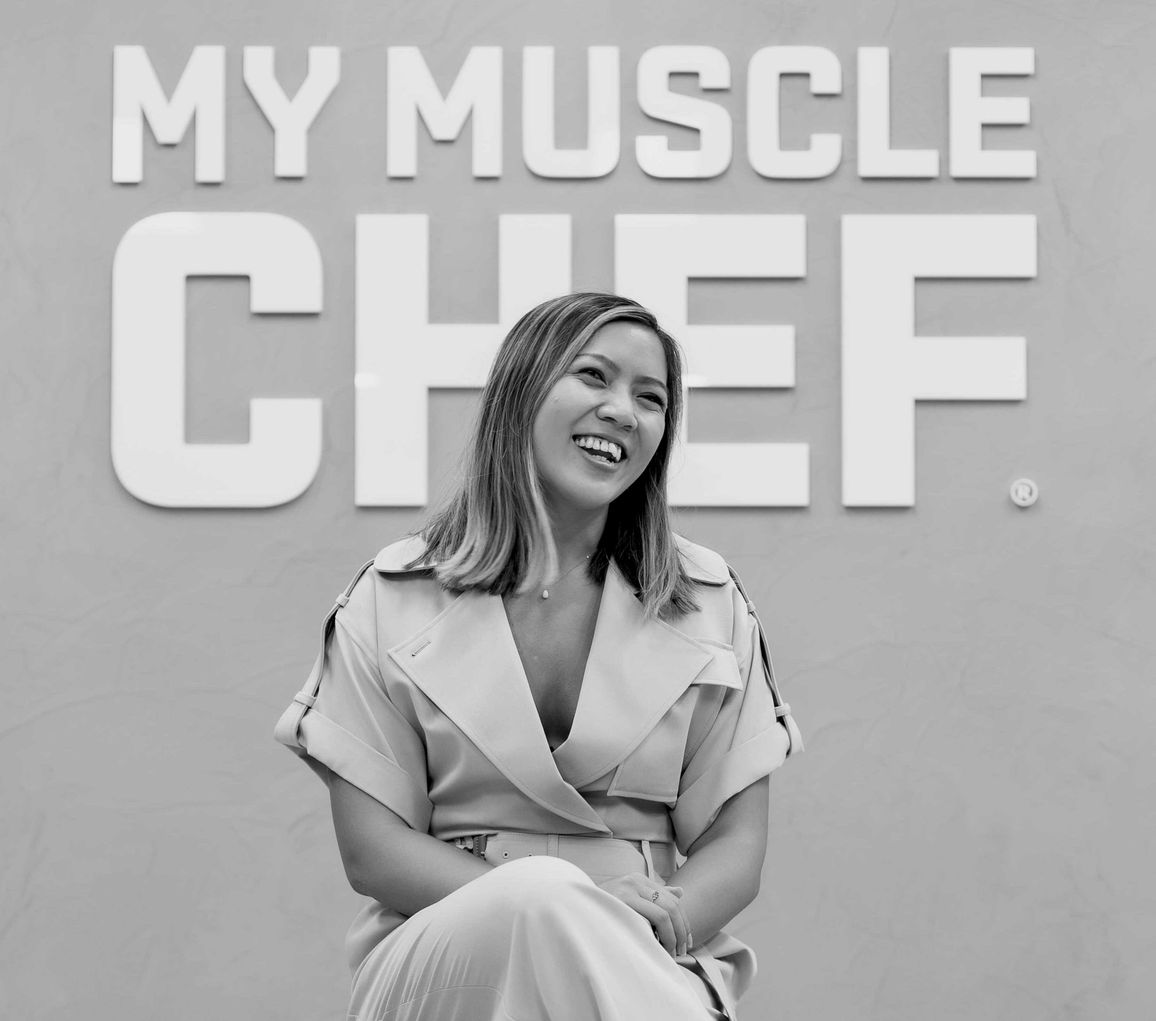 Marketing Manager at My Muscle Chef: on the phenomenal growth of meal delivery services and upcoming trends in FMCG
---
At Marketing Trends, we are discovering what drives Australia's top marketers. My Muscle Chef delivers 1.6 million meals every month to over 4,500 suburbs across Australia. Sarah Tu talks about the impact the pandemic had on the industry, the shifts in FMCG, and how this fast-growing company still keeps its startup spirit. All in her interview below ↓
---
Career & professional background
Sarah, how did you start working in marketing?
I've always known I wanted to work in marketing. During high school, I loved studying the disciplines of art and science, so it was only natural that I found marketing as a way of bringing both worlds together.
Whilst studying a Bachelor of Media majoring in PR and Advertising at university, I spent a lot of time doing internships to get my foot in the door when I graduated. I spent the first 5 years of my career working at various agencies, getting exposure across a number of different industries - from entertainment to agriculture, healthcare to automotive, and finance to FMCG.
It was a really exciting time in my career, building up my knowledge of marketing principles, working with diverse stakeholders, and solving new business problems every day.
About a year ago, I decided to make the move in-house, as I wanted more scope to directly influence and drive change. At the same time, I wanted to get into a broader marketing role, so that I wasn't pigeonholed into working on just media or creative. Now at My Muscle Chef, it's been great to bring my experience to a business and industry that's seeing phenomenal growth with so many opportunities on the horizon.
Even though you knew early on you wanted to work in marketing, do you have any other passions or interests that you might have wanted to turn into a career?
The idea of a more physically demanding job has always sounded enticing, but unfortunately I've had to accept that my injury, proneness and general disdain for cardio were holding me back from becoming a professional athlete.
I've always been fascinated with sport, nutrition, and health science, so may have gone down that path in another world. All things considered, I've been fortunate that my role at My Muscle Chef intersects quite nicely with my interests outside of work.
As for the more physically demanding side of things, I'll have to settle for my winning streak on the Activity app and training to become a contender for our office ping pong championship for now.
What's your role at My Muscle Chef like?
Fast paced and always evolving. As the Marketing Manager at My Muscle Chef, I lead our direct to consumer efforts and am responsible for driving brand growth, customer acquisition, and retention.
Working in an eCommerce business means our marketing team's efforts directly impact revenue so it's an incredibly rewarding role with plenty of scope to try new things and see the impact first-hand.
I work with an exceptionally talented cross functional team and our agency partners on brand campaign development, new product launches, customer journey development, and oversee our always on efforts across social, content, PR, partnerships, UX, and owned digital media.
I often describe my role as being a professional dot connector - even if my mum thinks that just means I'm following her around the internet with our ads.
How many people are there in your team?
Many people are often surprised when I tell them it's only a small team of 11 behind our marketing and design efforts! As a business, we've experienced a lot of growth in the past 12 months, which has come with an expanding team, but we've always been able to maintain an entrepreneurial spirit and an agile way of working.
It means we've got a well oiled engine when it comes to testing new things, unpacking insights and results, and quickly actioning learnings and optimisations as a result.
Marketing & Industry Trends
How did COVID-19 affect My Muscle Chef?
Like many other food and beverage businesses, we saw the yoyo effect of COVID-19 impact us. We saw a huge spike in sales when the onslaught of panic buying hit after the government first announced a lockdown, but this was quickly followed by a period of significant decline.
With gyms being shut and consumers working from home, we saw search interest for meal prep reach an all time low as people began rediscovering the joy of cooking while jumping on the bandwagon of baking banana bread and sourdough.
Paired with the threat of economic uncertainty and tight restrictions impacting our retail footprint, our proposition of ready-made meals and on-the-go snacks quickly became less appealing.
Ultimately, we were fortunate enough as a business to still grow during the pandemic. As an agile marketing team, we were able to shift to working from home with minimal disruption. We spent a lot of time relooking at our priorities at the start of the pandemic to ensure we were meeting and responding to our customer's needs and there to support them on their health and fitness journey.
From a content perspective, we rallied our ambassador network to help Australians workout from their living room and maintain their fitness levels. From a product perspective, we revisited our customer journey experience to streamline the online ordering process for when they were ready to get back on track.
In terms of trends or innovations happening in marketing and in your industry, which ones do you consider the most exciting ones?
The rise of functional food, beverages, and supplements is one I'm personally thrilled about. It's at the heart of everything we do at My Muscle Chef, which makes it an exciting time for us to be operating in the industry, and it's a compelling offer for consumers who can now expect more from brands in the way of benefits beyond taste and nutrition.
We're seeing a lot of innovation in the category coming from FMCG brands that are rising to the challenge and looking for ways to deliver on good foods with clean ingredients, functional health benefits, and transparent claims.
From a marketing perspective, we're beginning to see the partnership model evolve. It's by no means a new trend or ground breaking in the slightest, but the landscape is certainly adapting as commercial teams are becoming more intune with the needs of marketers and their customers to drive performance partnerships.
In the past, traditional partnerships have taken the form of affiliate models or licensing deals, but we're starting to see these transactional agreements change as brands use partnerships to drive their brand building and customer acquisition efforts simultaneously.
What type of challenges are you facing as a company and as an industry?
Apple's ITP changes will continue to highlight the challenges we face as an industry when it comes to consumer privacy protection. Whether you're in the "unsure and brushing it under the rug" or "acutely aware and proactively planning" boat, there's a lot of the unknown for marketers to navigate.
As an eCommerce business, we'll see an impact on our attribution modelling, our segmentation and personalisation efforts, and our overall ability to measure success against previous benchmarks - the extent to which we'll be able to accurately quantify this is a bit of a black hole.
It's painstakingly frustrating when we think of how much effort businesses have gone into segmenting their audiences, building precise customer journeys, and rigorous content engines over the past decade, but it does serve as a "friendly" reminder for marketers.
The changes are designed to put consumers in control of their privacy and data and by opting in or out, we're forced to factor their preferences into the ideal user experience and journey being built.
Tools, recommendations & sources of inspiration
How do you organise your weeks and your days?
As My Muscle Chef has grown rapidly, we've managed to preserve the entrepreneurial spirit of our startup roots. It means we're constantly embracing change, pursuing new ways of doing things, and looking to evolve, which can make it tricky to stay on the ball. It's paramount that we're always working with agility, but not losing sight of our overarching ambitions and objectives.
Our team starts the day off with a quick 15-minute stand up to review how we're tracking against targets and establish our priorities for the day. It means we start the day off with clarity, keeping any trends top of mind, and course correcting any problems if they arise. I also like to make sure I carve out time on a regular basis to plan and revisit our quarterly roadmap, assess macro trends, and take a moment out of our day-to-day operating rhythm.
Outside of the office, I like to place a great emphasis on organising my own personal health and wellbeing, so that I can bring the best version of myself to work. For me, this means non-negotiables like going to the gym on my set evenings, regularly leaving the office at an acceptable time, making time to have lunch away from my desk, going for a walk when I need it, and eating well most meals of the week (thanks My Muscle Chef!).
Which softwares do you use to organise your work?
Aside from being a huge fan of a good old-fashioned spreadsheet, I love using Slack. It's intuitive to use, easy to navigate, and there's some handy features and integrations that reduce the unnecessary clutter of long email chains.
Working in a fast paced environment where the team is often on the go - in agency WIPs, product tastings or visiting our retail partners - Slack has made it really easy to communicate with various departments and stay organised on integrated projects.
We operate across three different locations in Sydney and have a presence in retail stores all over Australia which means our "water cooler" moments often take place on Slack - whether it's an all staff update, an onslaught of birthday messages, or a debrief on the latest Netflix series. The GIFs and reactions go a long way in overcoming the transactional and functional nature of technology.
What brands do you admire and take inspiration from?
I've always admired Red Bull. The creative proposition they've built around their brand is impressive when you think about the product anchored behind it - an energy drink. They've built cultural relevance across so many different verticals and managed to establish the authority to speak with authenticity to all kinds of passion points - extreme sports, music, gaming, and car racing. They're a live case study in marketing effectiveness that's built from balancing long-term brand building with short-term sales activations.
What resources would you recommend?
I'm a huge fan of Julian Cole and his Planning Dirty resources. Regardless of whether you're just starting out in your marketing career or a seasoned veteran with 10+ years under your belt, you'll find so much value from his insights and frameworks. He's done a great job of simplifying complex frameworks and models, and stripping things right back to the bare basics of marketing.
I like to surround myself with the expertise of those around me - my colleagues, my friends, and others around me outside of the marketing industry. I'm always learning something new every time I visit my chiro, speaking to our in-house sports dietitian, or people watching at the chilled aisle of my local Woolies.